Main information:

Celebrating in style


Nymphenburg Palace: your venue for events and celebrations
Hubertussaal (Hubertus Hall)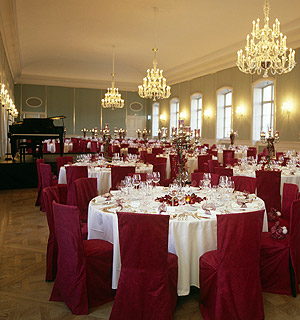 One of the first festivities in the Hubertus Hall, as noted in the diary of Count Preysing, was a large banquet following a hunt on 3 November 1757. The illustrious St Hubertus Day hunts gave the hall its name.
Feast like Count Preysing in the former banqueting and theatre hall of the Wittelsbachs. You will be sure of an unforgettable evening.
Since the opening of the Orangery tract as an event area in 2003, the Hubertus Hall has blazed with light almost every evening as the setting for concerts, plays, gala dinners, ceremonies, company presentations and meetings; it is at your disposal for events like these and many others. Concert and event agencies rank it as a prestigious venue for special events.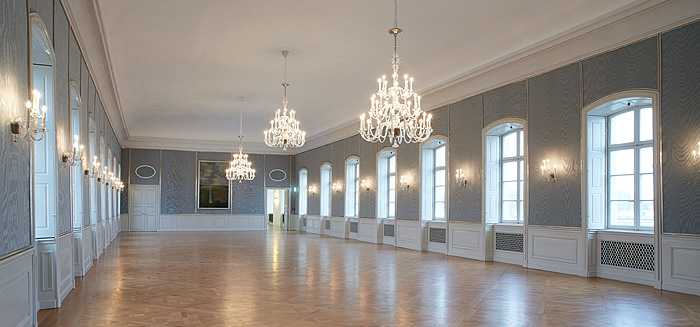 The Hubertus Hall is particularly suitable for gala dinners, concerts, meetings and ceremonies.
You can invite up to 220 guests for a banquet in the Hubertus Hall, while with concert seating it accommodates an audience of almost 400. The hall can be hired on its own or in combination with the Orangery and Johannis Halls.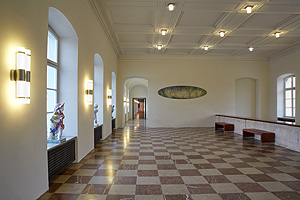 The two spacious foyers on the upper and lower floors are available for your guests as reception areas and in the intervals.
In fine weather you can enjoy a glass of sparkling wine in front of the main entrance with a view of the imposing façade of Nymphenburg Palace or in the idyllic inner courtyard of the event area.
---
Hubertus Hall – technical data
Maximum capacity (number of guests)
---
Hubertus Hall (upper floor)
392
(with 4 x 6 m stage)
369
(with 4 x 8 m stage)
---
Johannis Hall (upper floor)
---
---
Orangery Hall (ground floor)
---
Foyer on the ground floor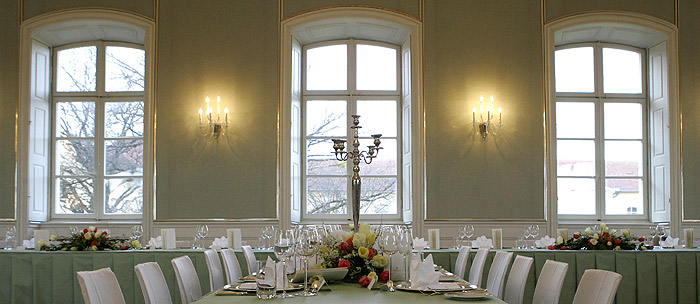 The Hubertus Hall is fitted with a panel parquet floor in the "Versailles pattern" (supports a weight of 5 kN/m²). Four magnificent glass chandeliers provide festive lighting. The chandeliers and the wall lights can be dimmed.
In the daytime the hall is well lit by the large windows on both of the long sides. The windows on the south side have an impressive view of the elegant central building of Nymphenburg Palace with its spacious approach. The hall can be darkened by means of the inner shutters and material blinds.
---
Hubertus Hall – seating plans

Seating in rows – enlarged version of the plan

Banquet seating with round tables
---