Main information:

Celebrating in style


Nymphenburg Palace: your venue for events and celebrations
Johannissaal (Johannis Hall)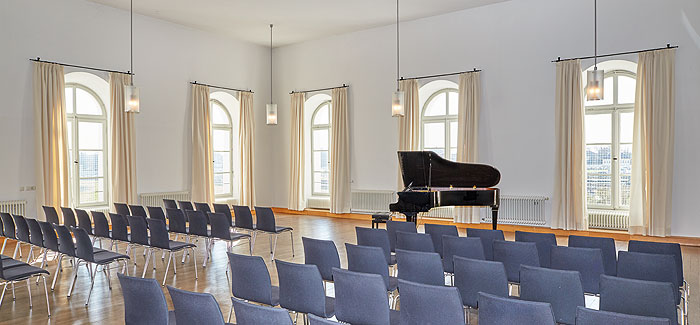 The Johannis Hall is particularly suitable for concerts, receptions, seminars, and presentations
as well as for civil weddings and secular marriage ceremonies.
The so-called "Johannis Fountain Tower" where the Johannis Hall is located is one of the oldest parts of the Nymphenburg Palace complex. It still houses the pump for the large fountain in the crescent in front of Nymphenburg Palace, one of the oldest machines still in operation in the world. Little is known about the use of the Johannis Hall in the past. In the 18th century the electoral servant responsible for the fountain probably lived here. A description of the Fountain House dating from 1789 lists "a staircase, a living room, two chambers and a kitchen".
Since 2007, the Johannis Hall has been available as a multifunctional event room. You can invite up to 90 guests here: the hall provides an excellent setting for a concert or a lecture, or can be used for a reception. It can of course also be booked to supplement the Hubertus and Orangery Halls.
---
Johannis Hall – technical data
Maximum capacity (number of guests)
---
Hubertus Hall (upper floor)
392
(with 4 x 6 m stage)
369
(with 4 x 8 m stage)
---
Johannis Hall (upper floor)
---
---
Orangery Hall (ground floor)
---
Foyer on the ground floor
The almost square hall is fitted with a parquet floor. The hanging lights can be dimmed. Large windows provide a view of the spacious palace crescent. The room can be slightly darkened with the white window curtains.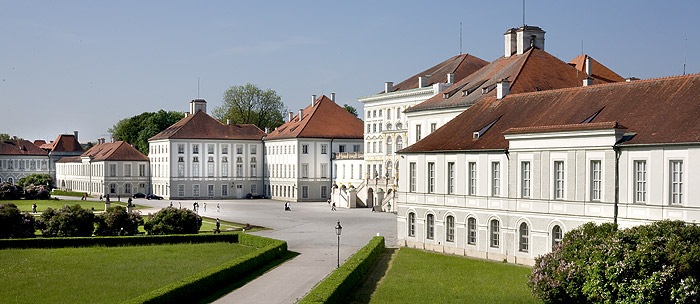 ---
Johannis Hall – seating plan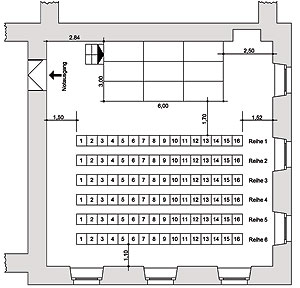 Seating in rows – enlarged version of the plan
---