Main information:

Celebrating in style


Nymphenburg Palace: your venue for events and celebrations
Orangeriesaal (Orangery Hall)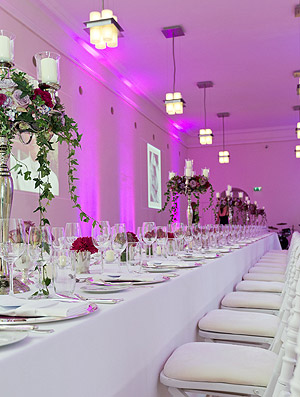 The two-storey north wing of Nymphenburg Palace was planned under Elector Max III Joseph in the mid-18th century. It was to contain a new theatre and comedy hall, the subsequent Hubertus Hall, and two large orangery halls on the ground floor with room for at least 250 citrus plants in the winter.
The proximity of the orangery and the festivity rooms was deliberate, as the citrus plants with their fragrant blossoms were a popular dining room and table decoration in this period.
Today this spacious, light-filled room no longer houses plants, but is available for private festivities instead. The 25-metre-long room can accommodate up to 170 guests. Whether for illustrious receptions, presentations, lectures or meetings, on its own or in combination with the event area on the upper floor, the Orangery Hall is a room that offers many possibilities.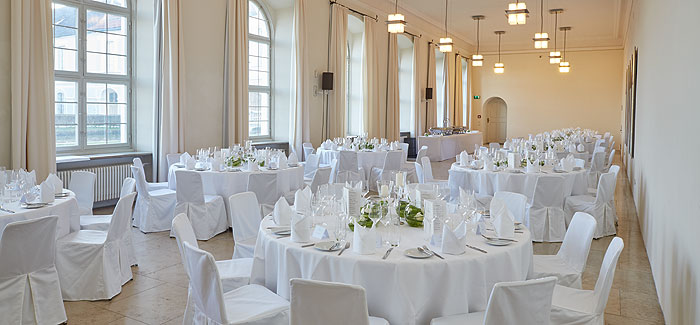 The Orangery Hall is particularly suitable for receptions, seminars, presentations, concerts,
and secular marriage ceremonies.
---
Orangery Hall – technical data
Maximum capacity (number of guests)
---
Hubertus Hall (upper floor)
392
(with 4 x 6 m stage)
369
(with 4 x 8 m stage)
---
Johannis Hall (upper floor)
---
---
Orangery Hall (ground floor)
---
Foyer on the ground floor
The hall is fully equipped for a variety of functions. The floor is of natural stone and there are modern hanging lights which can be dimmed. The row of high windows on the south side of the room provides an impressive view of the main tract of Nymphenburg Palace. The room can be slightly darkened with the white window curtains.
---